Another day, another Indie gem to fangirl over! We're really being spoilt this year, and with 2020 being a complete write-off in all other respects, it's good to know that the devs behind some incredible games are working to keep us occupied. Today, we're taking a look at CrossCode from Radical Fish and Deck13, another addictive game that you won't regret adding to your collection.
CrossCode is a 2D action RPG with some twinstick shooter gameplay. It has an increasingly emotional and compelling plot, and follows the character of Lea, an amnesiac who plays in a futuristic MMORPG named CrossWorlds in order to learn more about herself and regain memories. Along the way she discovers a mysterious plot that changes everything for her and her friends. This is all you're getting, because I'm not going to spoil it because you should definitely go and play the game yourself.
On your travels, you'll participate in fast-paced combat that can be upgraded and expanded according to the player's preferences, and can be used against a vast array of enemies, including live, hostile snowmen – if that doesn't tempt you then what will? You'll also have to overcome puzzles, some platforming, and complete an array of different quests as you traverse the gorgeous and dynamic environments of the CrossWorlds: through beautiful greenery, deserts, dank caves, snowy mountaintops, and more.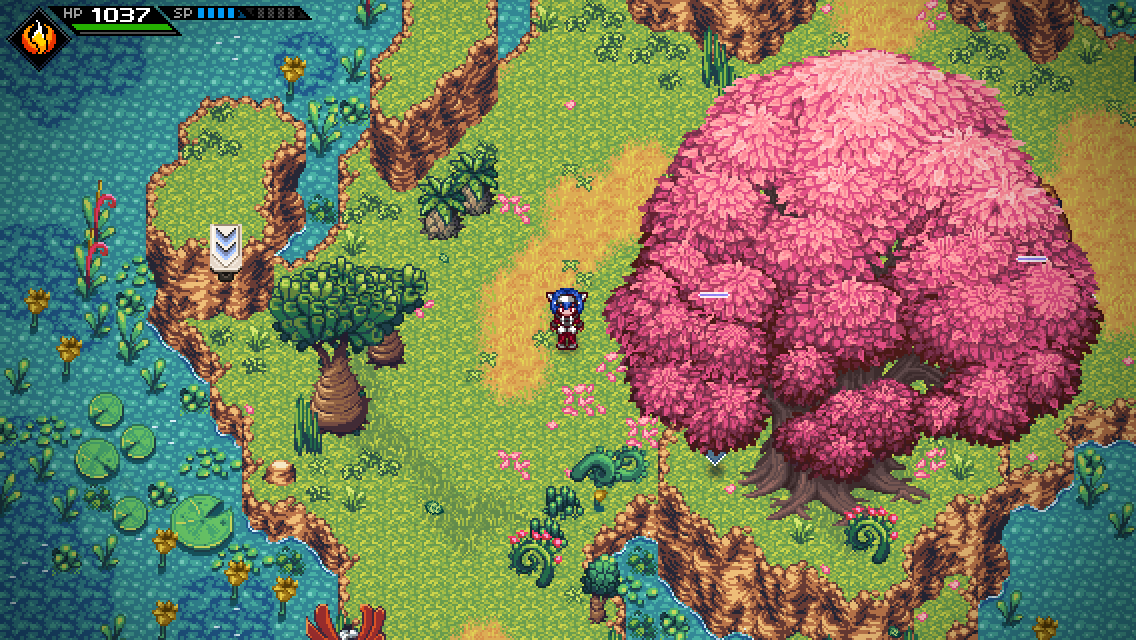 My first reaction to CrossCode is that this game is lovely to look at and experience in general. The vibrant colour palettes and 16 bit retro-inspired graphics are gorgeous, and the character designs give so much personality to the many people you'll meet on your journey. Each environment is expertly crafted, atmospheric, and fun to explore, and the music is so catchy you'll never get sick of hearing it.
The characters themselves were a real highlight for me. I loved our mute heroine, Lea, who due to a speech malfunction with her avatar is unable to say many words to other players for a good portion of the game. Her facial expressions communicate what no words could do justice to and I really came to love her and care for her. She is determined to attain justice, she's funny without saying a word, and she's utterly adorable. Lea is a fantastic heroine, and this is the hill I will die on!
As is her sidekick, Emilie, who Lea meets at the beginning of the game and who you're able to party up with for additional help. Emilie is an equally awesome character. She's joyful, funny and enthusiastic, and she makes hilarious little quips here and there that put a smile on my face. She's also quite powerful, and a real help in combat particularly at the beginning of the game when you're still getting used to the controls. There really couldn't have been a better combination of central characters. I really loved our heroines, Lea and Emilie.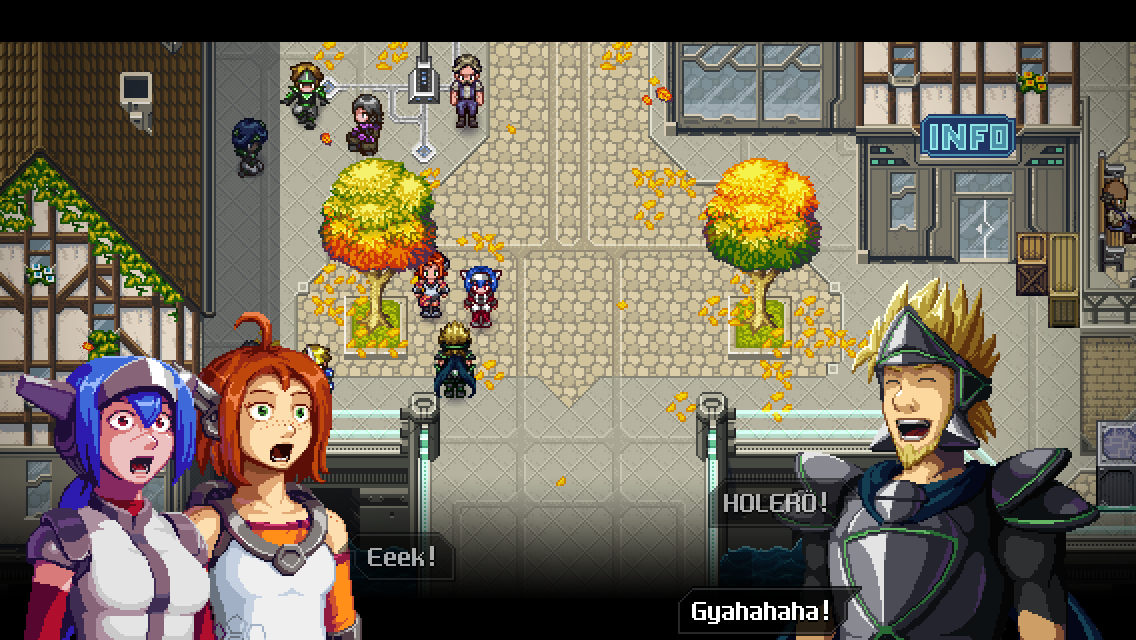 In terms of gameplay and controls, CrossCode is pleasant to play. The auto-jumping will not be popular with everyone, but for me it made it much easier to focus on moving and aiming, so I was grateful for this touch. Movement is fluid and combat is fast-paced and thrilling. You begin with a basic ranged attack and melee attack, but as you level up you can upgrade using the talent tree named the Circuit Build. Every time you obtain a new ability, you're greeted with a short tutorial that takes you through how to use it.
The game is quite difficult, and you're told at the beginning that it is intended to pose a challenge. However, you also have the option to alter the difficulty using sliders that change damage taken, frequency of attacks by enemies, and enemy attack strength, each which can be altered on a scale. This is super useful and avoids that age-old problem where neither difficulty truly fits the player's abilities. You don't need to compromise in this game, and you are even told that regardless of the intended challenge, you should change these settings if the game becomes inaccessible or unenjoyable for you.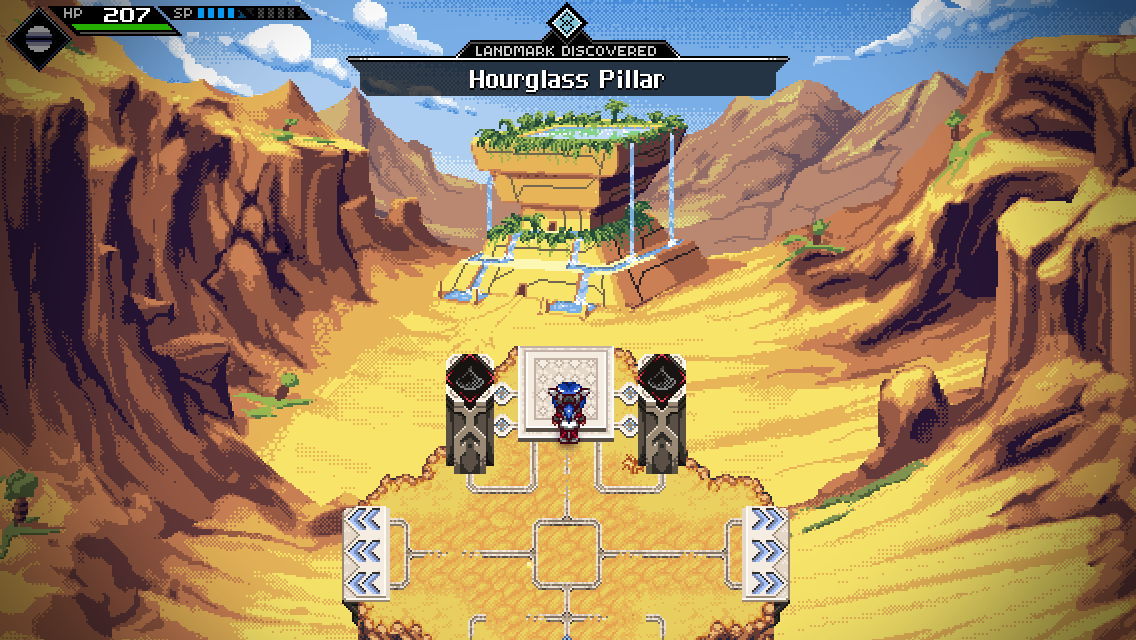 Reader, I thought that this was a really neat touch. These developers are not contributing to the toxic 'git gud' culture in gaming and for that I can't thank them enough. It's also one small way of making your game more accessible. I did alter the difficulty at some parts to speed the process up when I was getting stuck, and it did make it more enjoyable for me.
CrossCode is a compelling action RPG with memorable characters and environments, and I wholeheartedly recommend it. It's super reasonably priced across all platforms. It's available right now for Linux, Mac and PC through Steam, GOG and Humble Bundle, and it's available for Nintendo Switch, Xbox One and PS4 from 9th July. You can also preorder a physical, boxed version here.