Diego Maradona
(15, Runtime: 2h 10m)
An altogether different rocketman is brought vividly to life in the equally essential Diego Maradona, a documentary retelling the story of one footballer's tempestuous love affair with a small, defiant city in Southern Italy.
Arriving in Napoli from the bright lights of Barcelona in 1984, Maradona was greeted as a hero. Seven years later he would leave under a cloud, despite leading Napoli through what remains the most successful period in the history of the club.
Opening with scenes reminiscent of the nerve-shredding car chase scenes in Ronin, the documentary wastes no time dropping the viewer directly into the tumultuous world of Maradona, football's last true rock star. A flawed genius with as much propensity for self-destruction as he had for tying defenders in knots with a sudden, tendon-straining shifts of his bodyweight, a football seemingly glued to the instep of his iconic Puma boots.
While those boots were a modest black with a white curved sash, everything else in his life remains colourful to the point of headache inducing, with the accompanying volume turned up way past 11 forming a world where most would fear to tread for even mere moments. His is a story interwoven with drugs, tabloid scandals and the looming shadow of Naples' mob underworld, a constant, tell-tale heart to keep Maradona's paranoia cranked up way past the point of rational thought.
Director Asif Kapadia, whose previous work includes the powerful Senna and heart-wrenching Amy, creates an equally powerful portrait of the man many believe to be the greatest to have played the beautiful game. Like those accounts of idols, here Kapadia again digs into the effects of fame and fortune, and how an almost mythical status can be applied to a hero until the pressure squeezes so tight that the cheery, willing mask inevitably slips.
With Maradona the portrayal is abetted by visually striking footage unearthed from thousands of hours of archives. The camera angles are quite unlike any regular football coverage most viewers will have seen before, even in an age of visual saturation where sporting directors zoom in on scuffed turf, strained player faces and ecstatic crowds. These shots lends the film an air of confidentiality; the viewer is shown alternative angles through which to interpret the man and by the somewhat abrupt, almost sequel-baiting conclusion, it is hard not to feel a trace of sympathy for the man who carried the dreams and aspirations of not just the supporters for whom he played but also an entire nation. 
Senna's mythical status has endured even in, or perhaps because of, the absence of the man at the centre of the adoration; Maradona, with a history of fractious relationships with family, lovers and supporters, still appears to be struggling under the burden of expectations placed upon him. That he achieved so much in the game is testament to the unerring talent he possessed.
…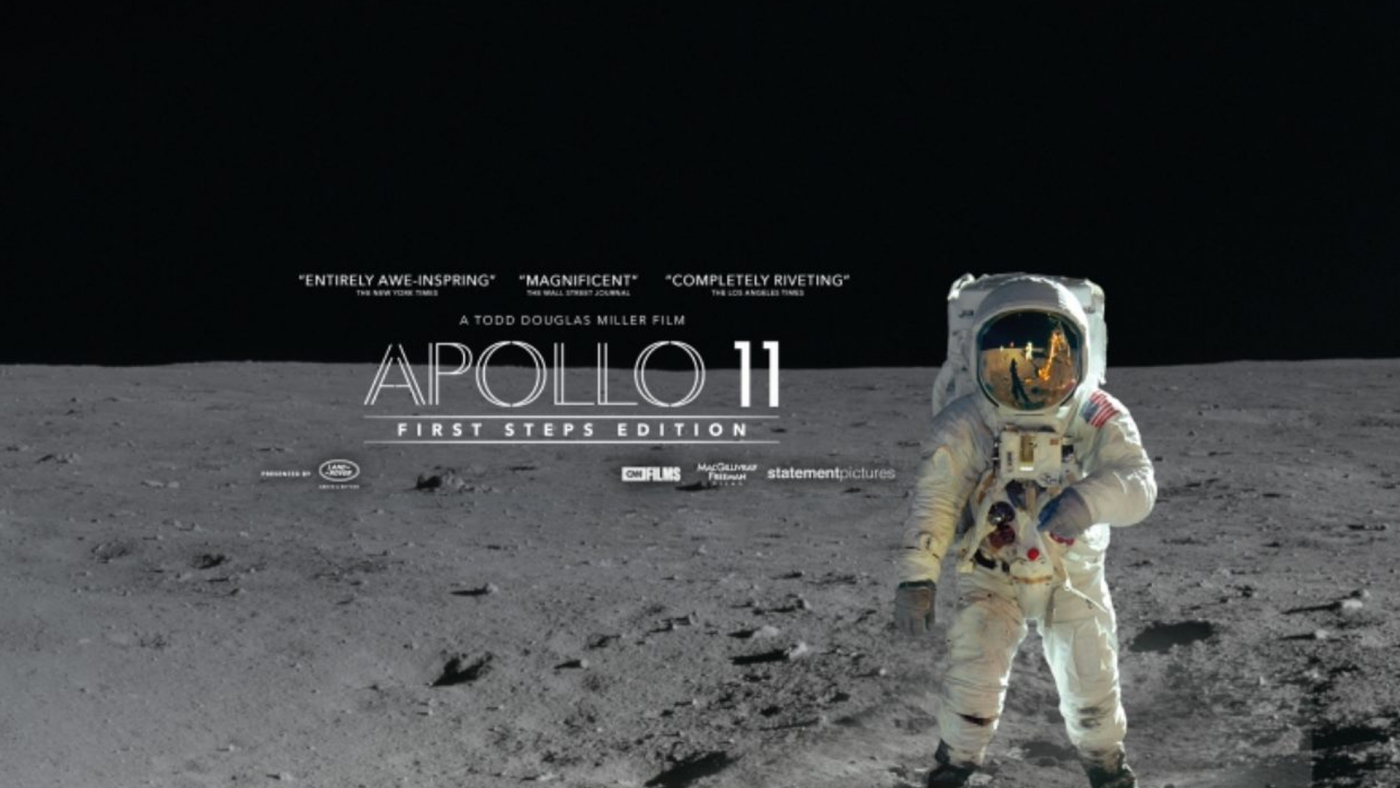 Apollo 11
(U, Runtime: 1h 33m)

Look up into the sky. If it's clear day you might see the ghostly half-orb hanging amid the pale wash of azure. At night it glows hot white, tracing an achingly slow curve through the pitch blackness. Our quiet, nearest neighbour, sits a quarter of a million miles away, undisturbed by humans for 48 years. Eugene Cernan and Harrison Schmitt were the last to walk its surface, completing the sixth lunar mission aboard Apollo 17.
But what of the first mission to the moon, over a half-century ago? This staggering documentary, which compacts the first moon landing into a ninety-minute, edge-of-your-seat thriller, serves as a timely reminder of what humankind can collectively achieve.
With no narration, no talking heads and only a smattering of animated slides to simplify complex space flight manoeuvres, Apollo 11 uses archive footage to chronicle the titular mission from pre-take-off to a – erm, spoilers? – a triumphant return for three men who over a white-knuckle 8 days, 3 hours, 18 minutes and 35 seconds pushed the boundaries of our species' reach several hundred thousand miles beyond its previous limits.
On a big screen, the documentary was at times a pulsating, thunderous noise, combined with stark moments of isolation, made all the more unnerving by the sheer scale of the silver screen. At home, the footage gains a heightened sense of intimacy, drawing the viewer closer to the astoundingly quietly confident skill of everyone involved with the mission. There is little brow-sweating bombast, just matter-of-fact clinical precision delivered calmly as though being shared by old friends gathered in hammocks on a sun-kissed beach.
There are moments of humour in the communication between Apollo 11 and mission control, the casual back-and-forth giving no hint of the scale of the mission at hand. There is breathtaking cinematography, from the shots of the hulking Saturn V rocket roaring into the stratosphere to the quiet poignancy of seeing a fragile Earth hanging in the vast blackness of space. There are staggering facts and figures, not least Buzz Aldrin's heartrate during launch being a frankly inhuman 88 beats per minute, the type of pulse most of us would achieve just walking up the stairs let alone strapped to the tip of a fully-fuelled missile weighing over six million pounds.
Unlike Damien Chazelle's brilliant First Man, this recounting of the moon landing is not melancholic; Apollo 11 rattles along replete with so many moments to position it as a truly great documentary, and what it really succeeds in achieving is a comforting, enriching, tear-inducing sense of hope. The focus, the effort, the energy required to go where no human has gone before needs no hyperbole. By not editorialising the archive footage (bar one small piece of audio repositioned in the mission's timeline), the beauty of what humankind achieved during the balmy summer of 1969 speaks for itself, far louder than even a Saturn V rocket at launch.
Apollo 11 is essential viewing. Looking up to the sky and dreaming of a brighter future might feel forlorn but doing so should really be done with a sense of quiet pride in what our forebearers achieved a long half-century ago, and what future generations might one day even consider quaint as they push our limits beyond our nearest neighbour and further out into the unknowns of space.
Both Diego Maradona and Apollo 11 are available to buy and stream on various platforms.